Download Grade 04 Maths exam paper 2015 in Sinhala Medium. This grade 4 Buddhism 2nd Term Test Paper is available as a PDF file. It's free and you can download the following link below.
Examination   –    School Term test Exam
Grade              –    Grade 04
Subject            –   Maths
Medium          –    Sinhala Medium
Year                 –    2015
Download Grade 04 Maths paper in Sinhala Medium 2015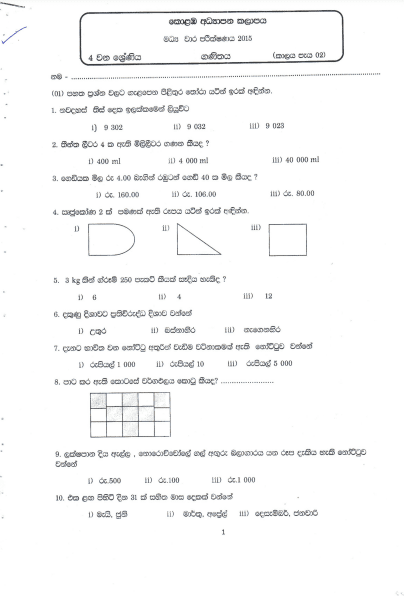 Find more Grade 04 Papers here – Grade 04
If you have a problem with this post or PDF file, you can add a comment below or contact us on Facebook & Email. Share this resource with your friends!
The past paper wiki provides Term Test Papers of Schools, Provincial Papers, Province Educational Materials, and Resources that includes syllabus, question papers, Teacher resources, Notes, and a lot more. All the content offered here is absolutely free and is provided in the most convenient way so that you don't face any issues.