A/L Buddhist Civilization Past Paper 2021 in Sinhala Medium
Download 2021 A/L BC paper in Sinhala Medium. You can download Sinhala medium 2021 AL BC past exam paper as a PDF file.
Exam              – Advanced Level
Year                 – 2021
Medium           – Sinhala Medium
Exam Date      – 2022.02.07
Buddhist Civilization Past Paper (I)

Buddhist Civilization Past Paper (II)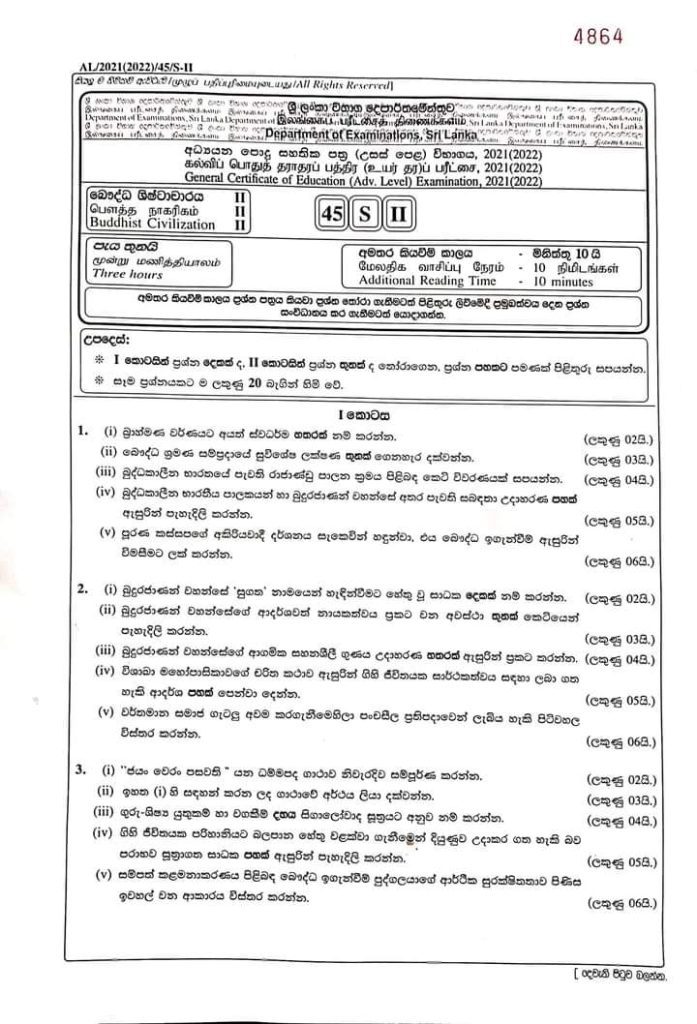 Download the Previous A/L Buddhist Civilization exam papers:
To download an updated list of Buddhist Civilization past papers Click Here
Both Part I (MCQ) and Part II (Essay) question papers of the 2021 GCE Advanced Level Buddhist Civilization Examination can be downloaded here for free. This GCE Advanced Level Question Paper was related to the Official Advanced Level Buddhist Civilization Examination held on 7th February 2022. Now you can join with the Past Papers WiKi community forum to discuss A/L exams, Model papers, marking schemes, lesson notes/short notes, and any other educational matters. This is an educational service that continues to uplift quality education for free in Sri Lanka. You may now help this service improve by sending educational materials to the link given below.
Past Papers WIKI has been the most reliable source of A/L previous papers and other educational materials in Sri Lanka for over four years. The website includes Provincial Papers, Province Educational Materials, and Resources that includes syllabus, question papers, Teacher's resources, Notes, and a lot more. All of the stuff available here is completely free, and it is presented in the most user-friendly manner possible to ensure that you have no problems.
Download more past papers from the Department of Examinations website. You can add a comment below or contact us on Facebook. Share this resource with your friends!